Present Like a Pro!
Make it easier for your patients to understand & accept treatment options (and their associated costs) with AccepTx Pro.
Watch the Video to Learn More >
Customizable
Create practice-wide settings then easily modify on a patient by patient basis on the fly! AccepTx Pro was built to be flexible.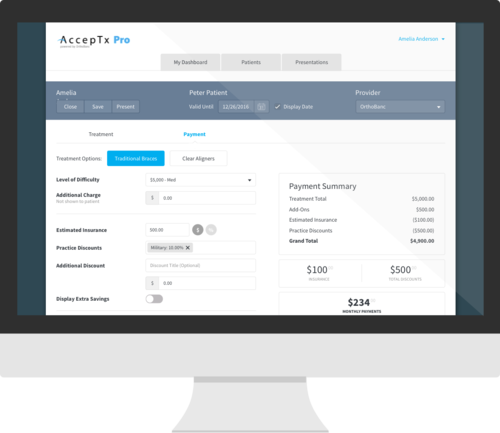 OrthoBanc Integration
AccepTx Pro integrates with OrthoBanc for payment
drafting and posts to most management applications.
What Our Customers Are Saying
"The program has been running smoothly and is easy to follow. Patients like it too! It is a professional document that patients get to take home with them on their initial visit and it truly reflect on their personalized treatment and payment plan."
Dina
Richardson
Office Manager
Wilmington, NC
"AccepTx Pro is a handsome presentation tool that allows our Treatment Coordinator to guide the patient/parent in customizing a payment plan that works for them. Our TC was already skilled at tailoring their payment plans, but this tool appears much more professional than what we were using before, and makes her job easier. AccepTx Pro makes "Accepting" treatment easy not only for the TC, but also for the patient/parent. The secure patient portal allows them to further customize their plan at home. Once they are ready to start, they simply "Accept" and are prompted to sign the paperwork and even setup their recurring payments. If you are looking for something that is professional and efficient, then AccepTx Pro is for you!"
Jessica
Bennet
Office Manager
Mobile, AL
"AccepTx Pro has helped streamline how we present financials to our patients. It is easy to use, looks very professional and OrthoBanc always backs all of their products with great support, which is an added bonus. This system has truly made our Treatment Coordinators and our patients lives so much easier!"
Mary
Wafelbakker
Office Manager
Morgan Hill, CA
"AccepTx Pro – affordable treatment planning for your braces options! "
Tracy
Southeast Orthodontics
Treatment Coordinator
Raynham, MA
AccepTx Pro has made the most difficult part of my case presentation seamless. We used to say we were flexible, now we can show them we are!"
Lauren and Lori
The Village Orthodontist
Treatment Coordinators
Frederick, MD
"AccepTx Pro has revolutionized the way we present treatment and finances to our patients! We love that AccepTx Pro puts our patients in the 'drivers seat' by allowing them to choose the payment plan that works best for them. Set up and integration has been a breeze and customer support is top notch!"
Margaret
Green
Treatment Coordinator
Boiling Springs, SC
"AccepTx Pro has increased our case acceptance substantially! It's also easy and convenient to use, which makes my job run smoother."
Aja
Playa Vista
Treatment Coordinator
Los Angeles, CA
"Try it, you'll like it."
Belinda
Ortega Orthodontics
Treatment Coordinator
Jacksonville, FL
"Love using Acceptx Pro, it's easy to use and patients are loving it."
Kassie
Portalupi & Anderson
Treatment Coordinator
Vacaville, CA
"AccepTx Pro is a new innovative way to adjust payments to fit the needs of our patients. Our patients love this option and we would recommend this program to other offices."
Amanda
Mikulencak
Treatment Coordinator
Ft. Worth, TX
"AccepTx Pro has helped to improve case acceptance in our practice. It helps the patient or responsible party control what their financial arrangements will be for their treatment plan. The outline is user friendly and allows one to see all their options as far as discounts, insurance or additional expenses. All of our patients have been very receptive to AccepTx Pro. It is also helpful for paperless offices with the e-signature function and email capability."
Charlene
PT Orthodontics
Treatment Coordinator
Hoover, AL
"AccepTx Pro is very professional in appearance and the information being sent home with patient's focus not only on the financials but on the value behind treatment. The format is very easy to understand and the smile adjusters empower the patients to have dynamic conversations at home regarding finding their best solution to fund treatment. The fact that patients also have the ability to sign the contract paperwork, of which we have 4 pages (with multiple signatures) has been a huge time saver and really locks in the commitment. Overall, AccepTx Pro has been an amazing fit for our office!"
Colleen
Bivens
Treatment Coordinator
Tampa, FL
"As an AccepTx Pro user my confidence as a Treatment Coordinator has grown. The program allows for a professional and clean presentation. I go into every consult feeling well prepared and knowing that my case acceptance is higher because I have the opportunity to present each patient an attractive presentation. All of my pending consults stay well organized and easily view able when it comes time to answer questions after the consult. I especially love that the representatives are always available to help walk me through any concerns that I may have! THANK YOU AccepTx Pro for a well-thought-out program!"
Shari
Scaffidi
Treatment Coordinator
Kenner, LA
"Empowering practices and patients, AccepTx Pro's Smile adjuster takes the sting out of talking finances."
Gwynn
OX Smiles
Treatment Coordinator
Rock Springs, WY
"With AccepTx, I don't have to use a calculator or feel like I am selling them a car. We input the values into the system and the down payment and monthly payment can be tailored to the patient's budget. I love how much more professional it makes my presentation to the patient."
Becky Lambson
Feller and Feller Orthodontics
Rock Springs, WY
"I have had wonderful feedback from our responsible parties about the AccepTx Pro presentations. They say they like the option to access the presentation from home and feel the flow of this tool is very smooth. AccepTx Pro has been a positive addition to our new patient process."
Kelly
Treatment Coordinator
Augusta, GA
"AccepTxPro is easy to use and easy to present. Our patients love it!"
Laura
Treatment Coordinator
Pearland, Texas
"As a Treatment Coordinator, AccepTx Pro allows me to give patients/responsible parties the feeling that they are in control of their financial agreement. Our office sets the parameters of this agreement so it is a Win-Win for us all."
Kelly
Treatment Coordinator
Augusta, Georgia
"AccepTxPro has helped us increase our case starts and helped ease the decision making process for our responsible parties. On top of all this, our average down payment has actually increased!"
Laura
Treatment Coordinator
Pearland, Texas
From The Same Team That Brought You

PROFESSIONAL PAYMENT DRAFTING AND MANAGEMENT
Be The First To Know!
Sign up with your email address to receive news and updates about AccepTx Pro.
We respect your privacy.